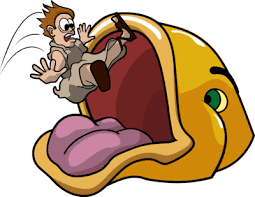 In the story of Jonah and the fish, God told Jonah to go to Nineveh, but He ran the other way. Why? Because he was thinking of himself. But God didn't abandon Jonah but sent a fierce storm as Jonah was asleep at the bottom of the ship that he was sailing in. To save the ship Jonah was thrown overboard when he told the crew that it was his fault that this is happening. God then caused a great fish to swallow Jonah and while he was in the belly of the fish he prayed to God for his deliverance, and God answered his prayer by causing the fish to vomit Jonah onto dry ground.
So God caused a huge fish to swallow Jonah who finished up three days and three nights in the belly of this huge fish.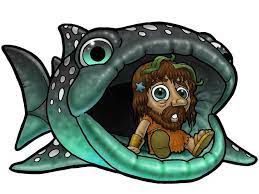 Do you know that Satan also uses a FISH that causes huge problems for us living in these last days of earth's history? This fish will swallow you whole and if swallowed, only God can save those who are victims of this situation. It is called the Sel-FISH. Only prayer to God can free us from the Sel-FISH which plagues all of us.
So just beware of the Sel-FISH; it will come and swallow you whole. And the only way to be vomited out of its belly is to pray to God and He will answer your prayer for salvation and free you from Satan's, "Sel-FISH."
The bible predicts that in the last days of earth's history, that terrible times will come upon us.
2 Timothy 3:1 But mark this: There will be terrible times in the last days. 2 People will be lovers of themselves, lovers of money, boastful, proud, abusive, disobedient to their parents, ungrateful, unholy, 3 without love, unforgiving, slanderous, without self-control, brutal, not lovers of the good.
When you look and study all these character traits you will find that they all stem from a selfish heart.
We certainly are living in a time where selfishness is the norm of many people all over the world. They have selfie photos taken with sports stars, entertainment idols, political figures, film idols etc… Road rage incidents and the like, where someone is put out and they become violent. Selfishness is behind it all.
Even back in Christ's day He had to deal with this problem.
Mark 9:33 They came to Capernaum. When he was in the house, he asked them, "What were you arguing about on the road?" 34 But they kept quiet because on the way they had argued about who was the greatest.35 Sitting down, Jesus called the Twelve and said, "If anyone wants to be first, he must be the very last, and the servant of all."36 He took a little child and had him stand among them. Taking him in his arms, he said to them, 37 "Whoever welcomes one of these little children in my name welcomes me; and whoever welcomes me does not welcome me but the one who sent me."
By arguing among themselves as to who would be the greatest in Christ's kingdom, they were showing their selfish ambitions. Christ had to diffuse the situation by asking them what they were arguing about as they were on the road. Of course, no one gave an answer. But Jesus knew their hearts.
Christ said to them: "If anyone wants to be first, he must be the very last, and a servant of all."
This is a far cry to how we humans view greatness.
In the case of James and John who came to Jesus and asking Him to have them sit at the right and left of Him in His Kingdom. When the other Disciples heard what they did, they became indignant. Jesus had to diffuse the situation by bringing them together.
Mark 10:42 Jesus called them together and said, "You know that those who are regarded as rulers of the Gentiles lord it over them, and their high officials exercise authority over them.43 Not so with you. Instead, whoever wants to become great among you must be your servant,44 and whoever wants to be first must be slave of all.45 For even the Son of Man did not come to be served, but to serve, and to give his life as a ransom for many."
There will be no room for selfishness in God's Kingdom, we will all be serving each other.
If anyone is dealing with selfishness in their lives, pray to Jesus and He will give you the victory over it.